DelDems Elect Historic Leadership Slate, Adopt Bold New Platform
Press Release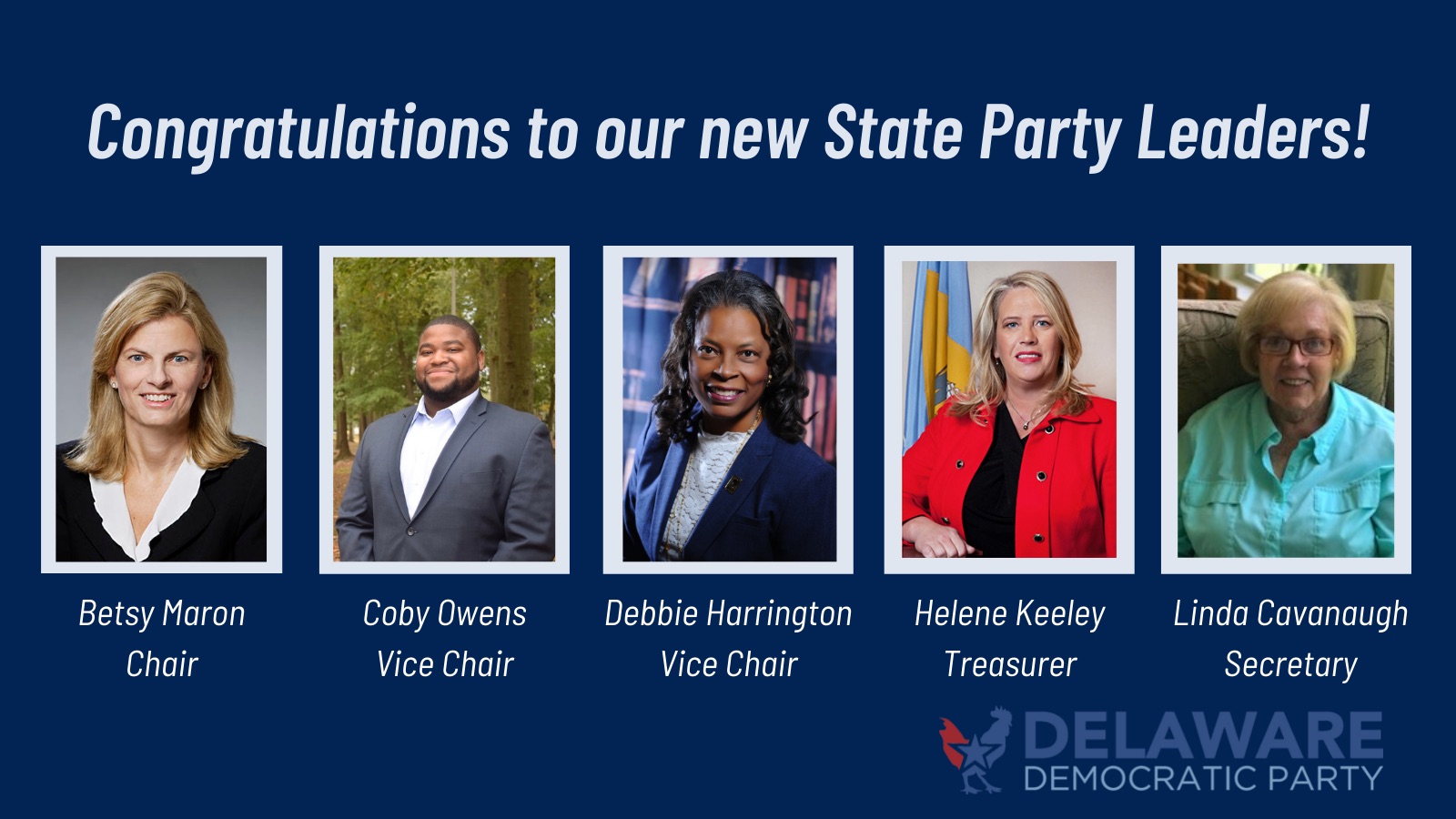 New Castle, Delaware — On Saturday, June 12, the Delaware Democratic Party gavelled into its first virtual State Party Convention at 10:30AM, with nearly 350 elected delegates in attendance.
The convention's official orders of business included updating party rules, electing new leadership, and adopting a new party platform as well as a package of resolutions.
Attorney and long-time party leader Elizabeth "Betsy" Maron was elected to a full four-year term as Party Chair, after stepping into the role this past winter to fill the remainder of former Chair Erik Raser-Schramm's term. Maron, the first woman to serve in this role, has represented Delaware at the DNC for many years, and has previously served as the Party's Vice Chairwoman and New Castle County Chair.
"This is an incredibly exciting time for the Delaware Democratic Party. From sending our own Joe Biden to the White House to securing a supermajority in our State Senate, Delaware Democrats saw a series of historic successes in 2020 and are well-positioned to carry that momentum into 2022 and beyond," says Chair Maron. "In November, voters sent a historically diverse freshmen class of legislators to Dover;  this week, our Party elected a historically diverse slate of leaders to our State Executive Committee. We know our party is strongest when every voice is represented. There's still work to be done, but our team is ready to hit the ground running as we head into redistricting and the midterms."
Senior U.S. Senator Tom Carper says this of Maron's election: "I'm proud that our Party recognizes the value Betsy will bring to the table as the first female State Party Chair. Her political experience, leadership skills and longstanding commitment to our beliefs will guide our Party as we continue to build on the progress we made in 2020. I look forward to working alongside her and the State Party as we gear up for the next election cycle to get Democrats elected up and down the ballot."
History was made in two other elections, when Coby Owens and Dr. Debbie Harrington became the first Black Vice Chairs elected to serve on the Delaware Democratic Party State Executive Committee. Former State Representative Helene Keeley was re-elected to serve as Treasurer, and Linda Cavanuagh was re-elected as Secretary.
Delegates heard messages from DNC Chair Jaime Harrison, Congresswoman Lisa Blunt Rochester, Senators Tom Carper and Chris Coons, Governor Carney, and Lt. Governor Bethany Hall-Long throughout the event, nearly all of which centered around the theme of getting involved at the local level during the 2022 election cycle. 
More information about the Delaware Democratic Party State Convention can be found online at www.DelDems.org/DSC2021.